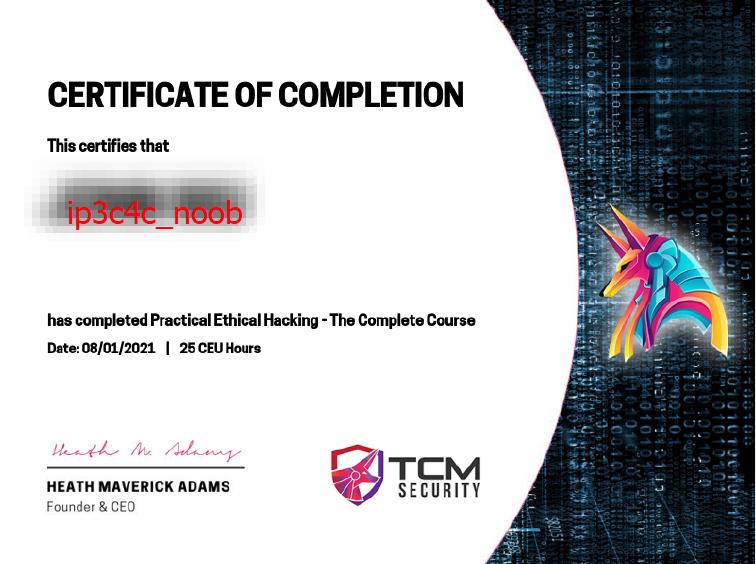 We did it!
Six months.
To be honest, I wasn't quite sure how long it would take me to finish the course, or if I would even finish at all. Your mileage may vary, depending on your obligations AFK, and baseline foundational knowledge.
Before and during the course, I was quite concerned if I would have the skillset to understand the material, and fortitude to finish the course. However, Heath aka The Cyber Mentor (TCM), has structured the lectures in a logical stepwise progression that builds on preceding concepts in order to introduce related or more complex topics. I felt each lecture was preplanned, and clearly explained by Heath. He has a relaxed manner about him that makes it easy to listen to. He was able to break down complex topics into manageable chunks. For example, check out his two lectures (and corresponding Excel sheet) on subnetting. He was able to teach a non-networking expert like me, to be able to describe and investigate large or segmented networks. Kudos to TCM.
If a potential student were to ask me for advice prior to taking this course, I would recommend:
Use a note taking app. Keep your notes organized. You will refer back to your notes over and over again, especially during the capstone challenges. You will probably end up using your notes with future investigations as well. I used cherrytree by giuspen. YMMV.

Engage the Discord group for tech support, or if you need any help. Google is also your friend. I was really impressed with the positive culture TCM and crew have cultivated on their Discord channels.

Stay keen and maintain an open mind. At times, you may feel frustrated if you don't understand a topic the first time around, or if you get stuck on a capstone challenge etc. If you could easily master all the concepts the first time around, you probably didn't need the course. If so, you're awesome. Me? I'm not that awesome, so I needed this course ;)
Most importantly, have fun.
I wholly recommend this course to anyone, of any skill level, with a keen interest to learn about penetration testing and ethical hacking.
What's next?
I'm not sure. I've already purchased the External Pentest Playbook and Open Source Intelligence (OSINT) Fundamentals courses. I'm itching to try a CTF. Whatever it is, I'm sure I'll have a blast doing it.
Thanks for reading, and thanks to TCM and his crew.
ip3c4c
'All we have to decide is what to do with the time that is given to us.' – Gandalf the Grey